Get this eBook to learn how to use video in every stage of your marketing funnel
From awareness to purchase, there are many steps a prospect takes before converting into a customer. Here's a look at how video fits into your marketing funnel.
Though there are many steps along the path to purchase, there are five overarching ones that experts have dubbed the marketing funnel. From awareness to action, this funnel gets narrower in scope as a buying decision draws near.
Every step along the way provides marketers a unique opportunity for customer engagement. It isn't enough to engage at the initial awareness stage, then step back and consider your job done until it's time to close the deal.
With so many options for digital outreach available, how can you best focus your efforts? While there is always a place for social media, blogging, direct mail, and more, video is emerging as a key player in this space.
In this article I break down how to use video at every stage of your sales and marketing funnel, inching your prospects one step closer to customer status.
Ready to learn more? Let's go!
What You'll Learn in this eBook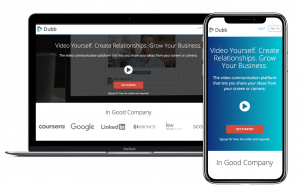 About Dubb
Dubb is a video communication platform that lets users send personalized, trackable videos. The Dubb platform simplifies video sharing with a Chrome Extension, Outlook Add-In, mobile app and website that allow users to share and track screen and camera videos. Dubb offers a free 14-day trial with no credit required.