Get this eBook to learn How to Optimize Your Videos Across Your Social Media Platforms.
A video that scores on YouTube could op on Instagram because the two audiences are different. Here's how to optimize your videos to cater to each crowd.
By 2021, there will be 3.02 billion active social media users.
How is your brand tapping into this massive and growing audience?
If your advertising and outreach efforts don't include an element of social media marketing, you're limiting your potential along with your income.
The most impactful way to incorporate this approach into your existing campaigns? Create compelling video content for your website, and then share it across your channels. From Facebook Live to Instagram Stories, new tools are emerging to help brands showcase their offerings in a creative, visual way.
Yet, not every social media platform is created equal. A web user that frequents one every day may eschew the other. This is because each has its own niche and crowd that it caters to.
It's important to keep this in mind as you create your next video marketing campaign. Taking the time to tweak and optimize your videos to make them appropriate for each account doesn't take long but can make all the difference in how many views your content earns.
Today, we're sharing a few ways you can make these adjustments with ease. Ready to get started? Let's take a look.
What You'll Learn in this eBook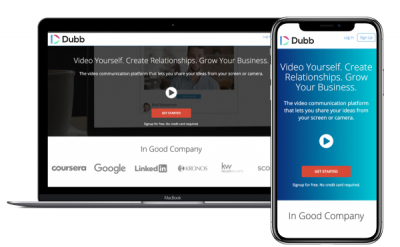 About Dubb
Dubb is a video communication platform that lets users send personalized, trackable videos. The Dubb platform simplifies video sharing with a Chrome Extension, Outlook Add-In, mobile app and website that allow users to share and track screen and camera videos. Dubb offers a free 14-day trial with no credit required.