Get this eBook to learn modern tactics for email marketing in the modern era.
According to recent research, 59% of B2B marketers say that email is their most effective channel to generate revenue. In order to take your B2B marketing to the next level, check out other successful email marketing examples for some inspiration.
Email is quickly becoming the preferred method for the B2B marketers, it takes longer to send an email than a social media message, so the fact that you took the time to respond and creates a connection with who you are emailing.
An email also allows for clear and concise conversations, rather than a quick back and forth via other messaging platforms. Sending someone an email is the next best thing to calling them, in terms of establishing a real connection.
So the problem is, how do you set up an epic B2B email campaign that will gain you new clients and not annoy them of your emails?
By checking out these email marketing examples, of course! Let's get started.
What You'll Learn in this eBook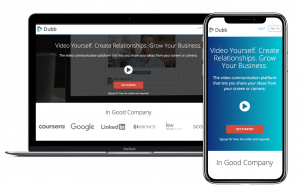 About Dubb
Dubb is a video communication platform that lets users send personalized, trackable videos. The Dubb platform simplifies video sharing with a Chrome Extension, Outlook Add-In, mobile app and website that allow users to share and track screen and camera videos. Dubb offers a free 14-day trial with no credit required.