Get this eBook to learn the best Marketing Strategy.
Think about what drives businesses and one word should pop into your mind: profit. It makes sense – businesses only set up in their markets to make money. Yet, there's more to the nature of the business than just revenue and profit.
Most companies are also out there to make a name for themselves. They want people to recognize their logos and their name; they want customers to enjoy the experience of going to them. And to do that, they implement the best marketing strategy possible.
And the best marketing strategy is one that sets them apart from their competition. It's the one that creates a unique brand for the business that resonates with its customers. A business's marketing strategy should be agile and adaptable to stay ahead of its market and keep it attractive to customers.
That way, the business can both make a name for itself and as much money as possible. The better a business's marketing is, the more customers will ock through its doors. And to learn how you can make the best marketing strategy for your business, just keep reading below!
What You'll Learn in this eBook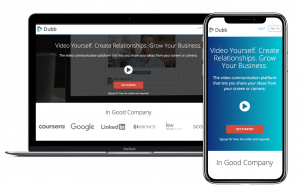 About Dubb
Dubb is a video communication platform that lets users send personalized, trackable videos. The Dubb platform simplifies video sharing with a Chrome Extension, Outlook Add-In, mobile app and website that allow users to share and track screen and camera videos. Dubb offers a free 14-day trial with no credit required.