Get this eBook to learn 9 ways to use video to increase and improve your conversion rate optimization
Conversion rate optimization focuses on increasing the number of leads who visit your website then convert to paying customers. Here are 10 ways video can help!
You've worked hard to create what you think is the strongest possible video content for your company's marketing strategy.
You have tutorials on how to use products, customer testimonials, and you've even worked with a few influencers to rake in the viewers.
The only problem?
These videos still don't seem to be doing much to increase your conversion rates. You're not getting the numbers of views and shares you anticipated, either.
It's time for a change — and a quick one.
In this post, we'll tell you everything you need to know about how to improve your video conversion rate optimization strategy.
Then, we'll fill you in on how you can make video marketing work to grow your customer base, bring in the profits, and increase your brand recognition as a whole.
What You'll Learn in this eBook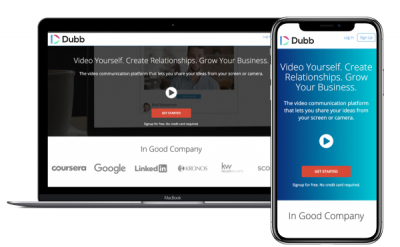 About Dubb
Dubb is a video communication platform that lets users send personalized, trackable videos. The Dubb platform simplifies video sharing with a Chrome Extension, Outlook Add-In, mobile app and website that allow users to share and track screen and camera videos. Dubb offers a free 14-day trial with no credit required.