Get this eBook to learn the 5 Ways Video Storytelling Connects and Converts.
Every brand has a story, and telling yours could earn you valuable brand connections, not to mention profits. Here are five ways of video storytelling converts.
More than 87% of your target customers want to know the origin of your brand. In fact, it's one of the top things they consider when deciding to purchase.
Your company has a story, and you have a captive audience ready to listen.
Even after you've gone into detail about how your brand came into existence, you can still create other tales that depict your products or services at work.
Herein lies the beauty of video storytelling.
Whether it's a documentary-style shoot of your behind-the-scenes operation or a fictional narrative you create to showcase your wares, this marketing format allows you to take your creative chops, and your profits, to a whole new level.
Today, we're sharing five ways that storytelling can transform your existing outreach strategy from bland to bold, and why it might be the missing link in your conversion optimization.
Ready to learn more? Let's dive in.
What You'll Learn in this eBook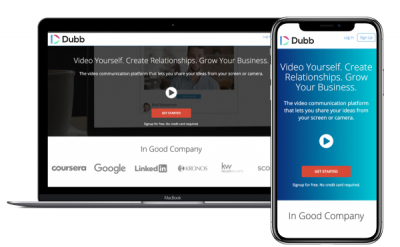 About Dubb
Dubb is a video communication platform that lets users send personalized, trackable videos. The Dubb platform simplifies video sharing with a Chrome Extension, Outlook Add-In, mobile app and website that allow users to share and track screen and camera videos. Dubb offers a free 14-day trial with no credit required.