Get this eBook to learn 10 video marketing trends redefining 2019
This year is poised to be a major one for the video marketing industry. From social video to B2B branding, here are 10 video marketing trends to look out for.
Research shows that after watching a video, 64% of online shoppers are more likely to buy a product.
Those are numbers you want on your side.
If you haven't already embraced video marketing as an integral part of your brand strategy, now is the time to act. This year is poised to be a breakthrough one for the industry and getting on board now could set your company up for unprecedented success.
With so much changing within the video sphere, it can be difficult to keep up with what's in, what's out, and what's on the way.
Today, we're breaking down the top video marketing trends of 2019. Could one or more of these be the star of your next outreach campaign? Keep reading to find out!
What You'll Learn in this eBook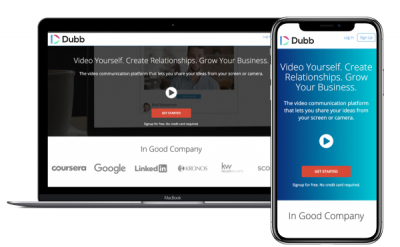 About Dubb
Dubb is a video communication platform that lets users send personalized, trackable videos. The Dubb platform simplifies video sharing with a Chrome Extension, Outlook Add-In, mobile app and website that allow users to share and track screen and camera videos. Dubb offers a free 14-day trial with no credit required.