Get this eBook to learn the 10 Creative Ways to Use Video Marketing to Skyrocket Profits.
You know video should be an important part of your outreach strategy. Yet, you haven't seen it all. Here are 10 ways to use video marketing to consider!
You're not imagining it: video content is slowly taking over the Internet.
In fact, by the year 2021, about 82% of all online traffic will be dedicated to watching and sharing video content.
What does this mean for your brand? That now is the time to start thinking much more seriously about how you can use video marketing in your overall advertising strategy.
After all, companies that include creative marketing videos in their advertising content generate profit almost 50% faster than those that do not.
So, now that we've got your attention, it's time to start thinking about how to develop some of the most effective marketing video ideas.
This post is here to help.
Read on to learn all about the many different ways in which you can use video to grow your company and make more money this year.
What You'll Learn in this eBook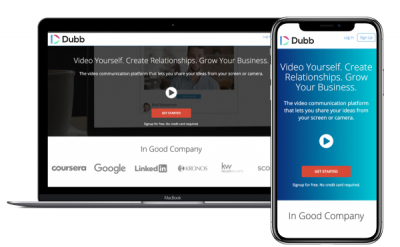 About Dubb
Dubb is a video communication platform that lets users send personalized, trackable videos. The Dubb platform simplifies video sharing with a Chrome Extension, Outlook Add-In, mobile app and website that allow users to share and track screen and camera videos. Dubb offers a free 14-day trial with no credit required.