Get this eBook to learn the 10 Crazy Simple Ways Video Marketing Can Increase Your Small Business Revenue.
Especially when you're a small business, every cent counts. Here are 10 ways you can use video marketing to increase your small business revenue.
You've heard a lot about the power of video marketing for small businesses.
Perhaps you already have a strong text-based advertising strategy established for your company. You've created an excellent website, you've claimed your business listings on third-party websites, and you've even cultivated relationships with other local businesses.
Now, you're ready to increase your small business revenue through the use of video content.
But before you dive in, you'd like a bit more information on what exactly makes video marketing so effective.
That's what this post is all about.
Read on to learn all about the unique benefits of video marketing, and understand how to create a perfect framework and strategy for your future video content.
What You'll Learn in this eBook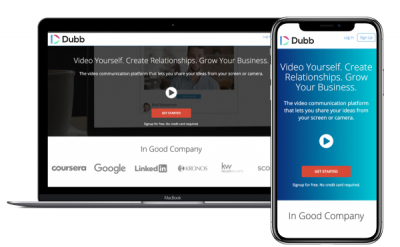 About Dubb
Dubb is a video communication platform that lets users send personalized, trackable videos. The Dubb platform simplifies video sharing with a Chrome Extension, Outlook Add-In, mobile app and website that allow users to share and track screen and camera videos. Dubb offers a free 14-day trial with no credit required.