Screen Recorder For Chrome
Are you looking for a screen recorder for Chrome? Do you have the need to record your screen and share the recordings with others?
If so, we are here to help. This post is a detailed guide covering everything you need to know about a screen recorder for Chrome.
The Value of Screen Recordings
If you are in sales, support, marketing, or wear multiple hats, you probably have needed to record your screen before. But before we get into the technical details of recording your screen on Chrome, it helps to explain why screen recordings can be so powerful.
The power, simply put, comes from video, customization, and efficiency.
Video is proven to be more engaging than text. It grabs people's attention and keeps their attention—which is especially critical in today's day and age. Compared to text, video is also a better medium to tell stories. Humans are naturally attracted to stories. They help us remember content and allow you, as the creator, to appeal to both a viewer's head and heart. As the competitive landscape has become more intense, your organization's ability to tell captivating, compelling stories through video will help you carve out a section of your niche.
So along with the fact that screen recordings let you leverage the power of video, screen recordings are also extremely customizable. You can use them for essentially any purpose. With a great screen recorder for Chrome—like Dubb's free Chrome screen recorder—you can add cool elements like annotations, pausing features, and more. Whether you need to record a presentation for a client or onboarding procedures for new employees, you can customize a screen recording for essentially any task.
Finally, screen recordings can help you and your team become more efficient. Screen recordings can save you time. Creating a screen recording of a common internal task frees up your time to work on other important things. If you are helping a customer with a customer support question, you can visually explain your answer instead of going back and forth on the phone. With a screen recording, you can save time, cut down on confusion, deliver concise content, and direct your viewer to complete a certain action.
These are just three benefits of screen recordings, but there are many more. At Dubb, we use screen recordings several times per day. Screen recordings are simply an easy, extremely effective tool to describe and convey specific actions without any guesswork.
What to look for in a screen recorder for Chrome
The value of screen recorders is clear. Whether you have used screen recorders before or are just learning about them, you may be interested in using them in your own business.
But how do you start?
First, an important caveat. You should know that not all screen recorders are created equal. Especially in a business setting, it's critical to find a screen recorder that fits your current workflow. The easier you can create screen recordings and move them to a distribution channel, the better off you will be.
You will want to do your own due diligence in order to select a screen recorder that is best for you. That said, there are several things you should be looking for when deciding what screen recorder to use for Chrome.
Compatibility
First, a simple requirement. Your screen recorder has to work with Google Chrome if you are a Chrome user. In other words, you should have the option to access your screen recorder through a Chrome extension. This means that in the Chrome Store, you should have the ability to download an extension that allows to you access your screen recorder right from your Chrome extension toolbar. This allows for screen recordings to be quickly and easily created right inside your Chrome browser.
For instance, you can easily access Dubb's free Chrome screen recorder in the Chrome Store. After adding it to your browser, you will see the Dubb logo at the top right corner of your Chrome browser. By clicking on the Dubb logo, you will be able to start a screen recording within Google Chrome.
Yes, this is a simple introductory requirement. But having said that, make sure that your preferred screen recorder works within Google Chrome. If it doesn't, you may want to consider selecting another screen recorder.
Variety
Next, when choosing among screen recorders, you should be able to create different types of screen recordings.
For example, all great screen recorders give you the option of choosing whether you want to record your entire screen or just your current browser tab. This is a powerful option to have. Sometimes you may need to record several tabs or even your desktop in the same video. Other times, you may need to only record the current browser tab you have selected and nothing else. Your screen recorder should have at least both of these options.
While it may not seem like much, having this amount of control over what you are recording can save you time in the long run. For example, if you want to record part of your screen for a customer, yet you have some sensitive information on another part of your screen, a great screen recorder will give you the option of recording only part of your screen.
So when you are on the hunt for a screen recorder for Chrome, make sure that it lets you take different types of screen recordings. Confirming this fact before you select your screen recorder will save you time in the long run.
Capturing You and Your Team
Next, your screen recorder should also give you the ability to include your presence in the recording. This means you should have the ability to include a webcam view of yourself or the ability to represent yourself visually in the video through an image or avatar. This feature makes your videos more engaging and visually appealing. Instead of simply watching your mouse cursor move across your screen, the viewer can look at your face while you explain what is happening on your screen. You can show off your personality and can visually emphasize the key points you are making in your screen recording.
For example, with Dubb's free Chrome screen recorder, you can simultaneously record your screen and yourself using your webcam. The screen recording takes up the majority of your screen while your webcam image is included on the edge of your recording (typically at the bottom left or bottom right of your screen). So when you are creating a screen recording for a colleague or customer, having this ability to show off both your screen and your face can lead to a more engaging video.
In addition to your visual presence, you should also be able to record your voice. As you are recording your screen you will often need to describe what you are recording and why you are recording it. Almost all screen recorders that offer simultaneous webcam recording offer this feature, but you will want to double-check before you make your final decision.
Detailed Analytics
Finally, with a great screen recorder, you should be able to track the engagement of your recordings. Specifically, you should be able to tell if the viewer has watched the recording and how much of the video that they have watched. This is the absolute minimum. Some of the better screen recorders give you more detailed analytics like watch rates, email rates, reaction rates, and call to action ("CTA") click rates.
Ultimately, detailed analytics are useful for a number of reasons. Detailed analytics can give you a better sense of whether your screen recordings are actually helping your audience. If, for example, you see that a three-minute screen recording of a product walkthrough has an average view time of five or ten seconds, you should ask yourself whether your screen recording is helping the viewer.
Before the rise of Big Data, many companies and organizations had to rely on intuition and gut when making their decisions. The rise of detailed data and analytics, however, lets companies make more rational, objective decisions. Because of this, you should search for a screen recorder that offers detailed analytics. It is your choice in terms of how strictly you follow that data. However, having that data available is a necessary component of any great screen recorder.  
Want all of these features?
These four features, while not the only critical features, should be present in any screen recorder we use. While there are many that you can select, we recommend that you check out Dubb's free Chrome screen recorder.
As we have alluded to above, Dubb's screen recorder works with Google Chrome, allows you to record multiple screens, incorporates webcam footage into your screen recording, and provides detailed analytics.
That said, Dubb's screen recorder goes above and beyond these critical features.
Dubb's screen recorder is extremely easy to use. After installing Dubb's screen recorder for Chrome, you simply click on the Dubb icon, click the screen recording option, begin recording, and then instantly distribute your recording. You don't have to stop there—for instance, you can add annotations to your screen recording using Dubb's annotation tool. The bottom line, however, is that there is essentially no learning curve when using Dubb's screen recorder.
Along with its ease of use, Dubb's screen recorder includes several awesome features that can help you drive viewers to certain steps or actions. One of the most powerful features within Dubb's screen recorder is its call to action ("CTA") feature. CTAs are devices that encourage your audience to take some type of action while (or after) they consume your content. You can customize a CTA to direct your audience to a website, schedule a call with your company, or download a digital product (like an eBook).
With Dubb's screen recorder, you can either include a verbal CTA in your video or can leverage customizable CTA buttons below your screen recording. Dubb gives you the power to control everything about your CTA buttons, including their text, color, and the action that is taken. Ultimately, CTA buttons in conjunction with your screen recordings can be an extremely powerful way to convince your audience to take a specific action.
Finally, Dubb's screen recorder allows you to easily share your content with the rest of the world. If you'd like to email your screen recording, Dubb lets you send your videos either directly or through an existing channel like Gmail or Microsoft Outlook. Sharing your screen recording on social channels (like Facebook, Instagram, or Twitter) is also extremely easy.
Along with this, one of the best parts about distributing your video with Dubb is animated preview thumbnails. You simply aren't sending a link to download your screen recording. Rather, Dubb automatically generates a three-second animated GIF that is much more interesting (and safer looking) than a link to your screen recording. The animated GIF is more attractive and more clickable, and it will undoubtedly increase your conversion rate.
Leveraging the Power of Screen Recordings
Whether you are in sales, marketing or some other profession, screen recordings are a valuable way to communicate virtually anything. The combination of a visible image of your screen and your narration can take your communications to the next level.
Once again, we encourage you to check out Dubb's free Chrome screen recorder. It is free and can take your screen recordings to the next level. To get started, feel free to click here.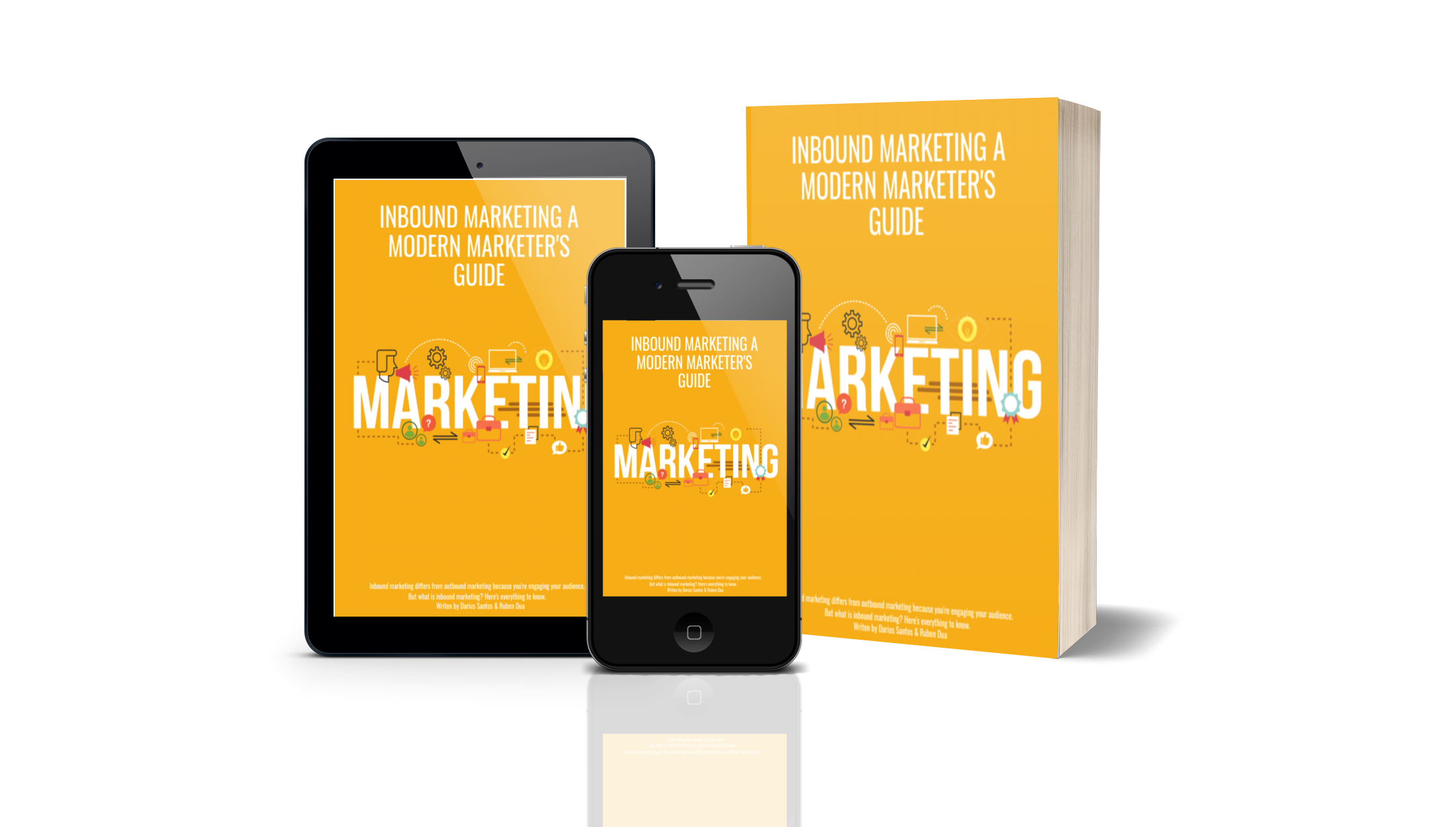 [eBook]  Inbound Marketing – A Modern Marketer's Guide
Dubb is a video communication platform that lets users send personalized, trackable videos. The Dubb platform simplifies video sharing with a Chrome Extension, Outlook Add-In, mobile app and website that allow users to share and track screen and camera videos. Dubb offers a free 14-day trial with no credit required.